Rain Drop is an organization created in Latur in 2014.
It was born with the will to assist the poorest through grassroots projects.
Our aim is sustainable development for everyone. We want to promote mutual help and solidarity.
Meet the Demands of Those Most in Need
Rain Drop was created at the request of Indian villagers suffering from drought and threatened by famine. Our first objective is to bring direct solutions to the poorest segments of the population by improving the management of their natural resources. To achieve this we created an in-depth exchange with the beneficiary families. Our projects, tailored to their ideas and needs, are determined and implemented together.
A Holistic Approach: Development, Environment and the Fight against Poverty
We are careful to always take into account the complex living conditions of those we work with. Our objective is not only to revitalize the environment but also to improve the living conditions of its inhabitants. We do so through the diversification of revenues, respect and promotion of social and cultural ties, as well as the sharing and discovery of knowledge.
Empowerment of Women
Women play a key role in the transmission of knowledge and development. Unfortunately, they are too often undervalued and marginalised in traditional cultures. This is why we strive to give women a central role in our projects, especially through targeted training, so that they may become empowered.
Traditional Methods and Modern Techniques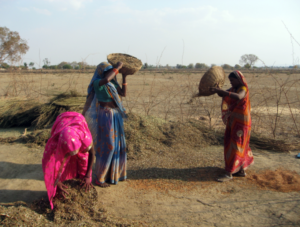 Our work is based on traditional knowledge and techniques, to which we add modern scientific and technological inputs.  Too often, ancient wisdom is disregarded or denigraded. Yet they often take into account the specificities of local environments, offer more adaptable solutions, are adopted easily by local populations, and are usually more simple and less costly to implement. Modern technology can improve the efficiency of projects and accelerate their implementation.
Develop International Solidarity and Exchange
Rain Drop also seeks to develop an exchange of culture and knowledge between people in developing and developed countries. Through our actions, we hope to raise the awareness of citizens beyond their immediate circles and enhance the spirit of appreciation, solidarity and sharing.